'I'm going travelling' – a comment that seems just as common today as 'I'm going down the road to buy some milk'. Thanks to the improvement of air travel and technology, the distant hills of faraway countries seem closer than ever before and this makes travelling an affordable option for the young, old, single, married, retired, student, and more.
Whether it's around the US, or Europe, Asia, or anywhere else on our magnificent planet, travelling is a real option and this is great news because it brings a wealth of benefits to you and those around you.
Today, I want to look at these benefits in more detail if you're currently on the fence about packing your bags and heading off for a few weeks, months, or even years. Ok, perhaps years is stretching it a little but weeks and months are both certainly an option!
Broaden the Mind
As many philosophers and experts have been saying for many years, travelling 'broadens the mind' in that you spend time with people of different nationalities, cultures, and upbringings.
For so long, we're surrounded by people of the same upbringing and we grow comfortable with those around us.
With travelling, you're thrown into situations you never thought imaginable and have to rely on your communication and social skills to survive.
The farther afield you go, the greater this feeling will be. Not only will the people have different perspectives on life, you'll notice a difference in society as a whole, the food, the shops, the currency, the wildlife, the sport, the music, and everything else in life you can think of.
When you finally come home from the experience, you won't believe how much this changes your mindset because you've learned to appreciate what else is out there in the world. Suddenly, you've gone from the closed-minded local in the US to someone who has seen more than most.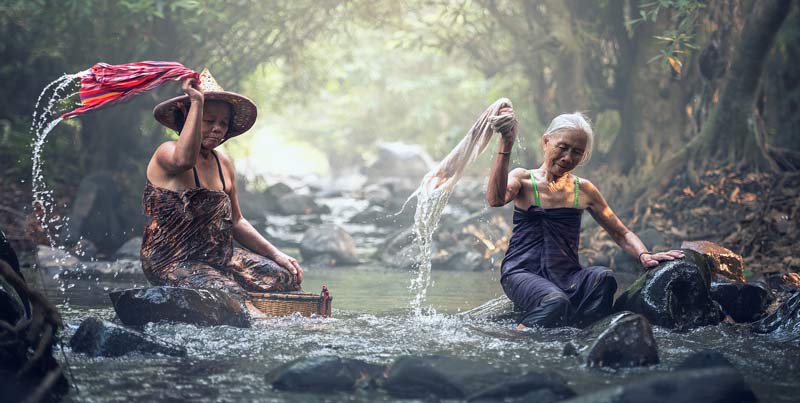 Find Your Purpose
Recently, a friend of mine returned home from six months away and he returned with an optimism and passion I hadn't seen before.
For the longest time, he has been enduring (rather than enjoying) a career in accountancy where he sits in an office and helps move numbers around a computer screen (his words, not mine). During his time away, he found what makes him tick at the very core of his being; food.
During his time travelling across Asia, he immersed himself fully into the vibrant colors and flavors on offer.
Although he used to cook for a time during college, he left that dream aside and ended up chasing the 'safe' option in an office job. Currently, he's in the process of bringing some of those flavors over from Asia to welcome into the US market.
With travelling, you just might find your own purpose in life whether it comes in the form of your career, personal life, or anywhere else.
Appreciate the Simple Things
Nowadays, we live in a world where the majority of us have smartphones and the basic things are taken for granted.
Every day, we arise from a comfortable bed feeling warm thanks to our studio flat, house, apartment, etc. Then, we jump into a warm shower, get dressed into clean clothes, and walk to the kitchen for breakfast.
As the day goes on, we enjoy public transport, water, food, friends, family, colleagues, a chair at our desk, and I could go on all day. When you travel to other locations, you might just find a different story.
In many locations around the world, they just don't have the same luxuries as us; I'm talking about the simple things like electricity, access to clean water, comfortable housing, and books.
After spending some time in these locations, it makes you really appreciate what we have and you'll never take it for granted again.
Recently, I read a story of how one traveller ended up sending packages to the village in which they stayed during a trip. Now, the children receive simple things like books and toys.
Learn About the World
Despite the differences in terrain, weather, language, ethnicity, and nationality, you'll soon realize that we're all exactly the same; according to Tony Robbins, we all have six needs regardless of where we are in the world or what our situation offers.
As well as love, we require growth, contribution, variety, certainty, and significance.
As you travel around the world, it doesn't take long to see each person walking the same paths in life to find these six things.
Furthermore, travelling also becomes a trip full of dispelling myths.
For example, many say countries are dangerous or too expensive when this may not be the case. Often, we give opinions on other countries without actually ever going but you have a chance to form your own opinions about countries.
Every place you go, you'll meet new people and gain new experiences which can be a fulfilling feeling.
Have Adventures
On a lighter note, who wouldn't want to zip-line in Peru, swim in Australia, cycle around Amsterdam, jump from a cliff in Thailand, watch the animals graze in Tanzania, ride a speedboat in Greece, discover the markets of Marrakech, and enjoy the beaches in Miami?
After working hard over the past few years, you deserve some time to have adventures and get the adrenalin pumping around your body.
If you aren't the type to enjoy fear in these moments, there are still simple adventures for you whether it's climbing a local mountain, visiting famous monuments and landmarks, shopping in markets, watching local sport, or travelling about town just as the locals do.
In years gone by, it was assumed that everyone had the same bucket list and that 'adventure' had the same definition for everyone but we know this isn't true now.
Since we are all unique, it's time to go out into the world and find what makes you happy. Rather than relying on your friends or family for happiness, travelling alone or with friends or family is a superb opportunity to do what you enjoy.
Segue to the New You
Before we go any further, we don't mean 'new you' as in a half-drunken 'it's New Year and I'm going to make so many changes'.
Instead, we mean travelling provides the opportunity to transition between one stage in your life and another. If you've just finished school, a job after being with the company for a long time, or even if you've just retired, travelling is a great way to transition into your new life.
With some time by yourself or with those dearest to you, you can reflect on what has just ended, where you are in life, and where you want to be in ten years' time.
Often, we allow ourselves to get caught up in the hustle and bustle of the world but taking a trip just slows everything down and ensures you start this next phase of life with a clear mind and full understanding of what you need to do to reach your goals.
Often, people say 'travelling is a waste of time because you're spending money and not making any progress towards your goals'.
Even ignoring all the benefits we've discussed today, this is still wrong because travelling allows the focus you need to start this new stage of your life.
When you return, you'll feel refreshed, focused, and full of concentration for what you need to do moving forward.
Break the Mold or the routine
I think among all the ones covered here, this is my favorite benefits of travelling. In life, we tend to fall into a certain rhythm and this is great news but sometimes we get too comfortable.
Remember, our time on this great planet is short so we can't be wasting it just watching the world go by as everybody else has fun.
By going travelling, you break free from the mold and find out what life has to offer outside of your usual schedule.
If you're lucky enough to take work on the road with you, you can work in a different location every couple of weeks and surely this has to be better than going to the office and buying coffee from the same place every morning just because it has become a habit.
If you can't take work but manage to get some free time, travelling resets your body and destroys the boring habits you have in life to keep you on your toes and this is helped by the adventures we've already discussed.
Learn Key Skills
Once again, we return to the 'travelling doesn't do anything except waste time' argument.
In fact, if you hear this being said by anyone, you can guarantee they are jealous of what you're about to do; they're probably jealous they didn't get the chance to do it when younger or that they can't get the break from work. Back to the topic at hand though, travelling teaches you some vital lessons.
If you're travelling alone, you learn to trust yourself and your own ability, which is something that is missing right across the US.

Since we continually rely on others for help or even just a good time, very few people learn to enjoy their own company but you can join the party. After this, you learn how to fend for yourself, how to look after your finances, how to plan your travels ahead of time, how to stick to a schedule, how to communicate with people who don't speak your first language, and more.

If you're travelling with friends, you still gain an independence because you'll be far away from the comforts of home but you build a close bond with the friends around you. Additionally, you'll learn how to balance your needs with the needs of those with you, how to speak up for yourself when you aren't having a good time, and how to work in a team.
Thrive in Pressure Situations
Although we plan our travels as best we can, there will be times of uncertainty and dramatic change and these will provide you with 'fly or die' moments.
Personally, I've been there when a plane gets cancelled, the accommodation you planned no longer exists, you miss a train, or you get ill. In these moments, you need to stay calm and forget about what has already happened.
If you beat yourself up, that won't resolve the issue so you should keep thinking of the present and how to fix the problem. This is a good training for sure haha
Summary
There we have it, nine fantastic benefits of travelling and, in truth, I could probably continue all day because it really is one of the most meaningful things you can do in life. Not only to see the world, but to build your own character and find your purpose in life!