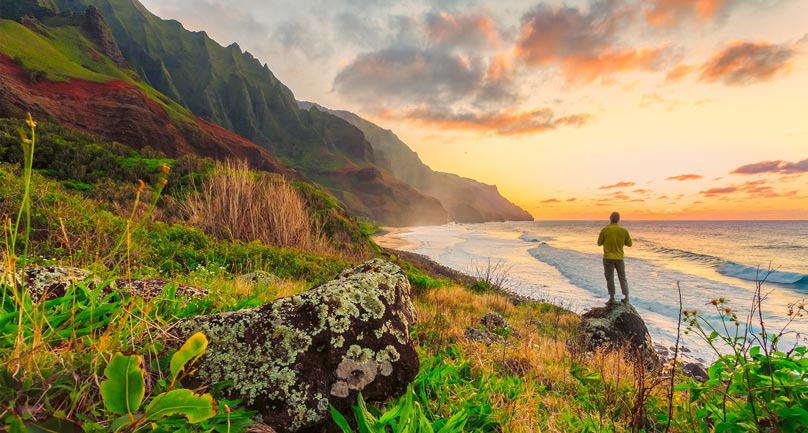 Who doesn't love travel? I've always thought that if you don't love travel, you've either A. Have never travelled, or B. aren't doing it right.
When most people travel, they're setting out a quest to open up their world. They want to uncover more of what is out there, see what's different, see what's the same, learn about new people and their cultures, and much of this is for the purpose of adding depth and understanding to one's life.
Travelling is exciting. It's fun, it's filled with new experience. But the best part of travel for me hasn't been about fulfilling a never-ending quest to have a good time. The more I've travelled alone, the more I feel I've "unlocked" of my personality. That, for me, has been the true motivator to keep hopping on those planes.
I first realized the power that solo travel had over my personality when I first visited Seoul. I admit that when I mas much younger, I had a much more a sedentary life. All that truly mattered were my studies and nothing else.
My vacation ? Work to earn money for my studies and…. study. It was as if my whole life could be summed up by those 2 verbs : work and study.
Don't get me wrong I had travelled several times before with my parents but never alone. Yep, I guess as long as you simply follow someone you don't really travel. You just tag long and follow the flow.
That is why this first trip alone to seoul was such an eye opener or a kind of wake up call.
I had planned this trip for about six months, and could feel the stress building up as I got nearer the departure date. I know it can sound silly, but it was nerve wrecking because I kinda was going to get out of my comfort zone.
As much as I played the role of being a strong guy who wasn't phased by anything, the idea that I'd be in a foreign city on a different continent with people speaking another language completely alone rattled me to my core. I know, super strong and unfazed, right? So I admit I was scared.
When I landed in South Korea, I had mixed feelings of excitement and fear.
Even if I had planned everything, I could not keep wondering if everything would go according to plan and within my tiny budget. (We all know there are always unexpected things in the way)
How would I communicate with people? How would I get food? How would be the airbnb flat ? So many questions ran through my mind at a million miles an hour.
At first, these questions freaked me out. When you have someone there with you, at least dealing with unknowns can be fun. Unknowns are an adventure when you're in good company, and answering those questions isn't so daunting because you're not afraid to make a mistake and end up stranded. You won't be stranded, because you have a relative or a friend next to you riding that miserable wave to the shore.
There was so much of seoul that was new to me, and even getting a taxi was not an easy task as most drivers could not speak english. But quickly the fear started to fade.
The next three days were filled with cafes, pubs, markets, treats, sightseeing, and exploring Seoul's major tourist attractions such as the Gyeongbokgung Palace or the Kimchikan Museum.
You know what? I had a fantastic time. I even got to practice what little korean I knew, and met some French people and americans who had moved to Seoul.
My first trip to Seoul ? A blast.
The moral of my story is that I saw how weak I could have been, and learned how strong I was capable of being. I tackled seoul on my own. I put myself out there and didn't need a sidekick to do so. Hey, I even hailed that cab and made it to the airport on time. This trip set off a spiral of moments that this strength would come in handy. I wasn't afraid to be outside my comfort zone anymore. In fact, I lived for it.
The advantages of travelling alone
After that trip, I started paying more attention to how solo travel has changed me over time. Here are some of the things that I've noticed and that are well-documented impacts that travelling alone has on our personalities and minds:
Being away from home makes you appreciate home more.

It's not that trips aren't amazing, but as Dorothy put it best, "there's no place like home". When you stay in the same place, you stop noticing how special it is. You stop appreciating the little things it has to offer. Traveling teaches you not to take those comforts of home for granted. The longer you're away, the more intense the effects are.

And because you are alone, you don't have any one to "remind" you or to "connect" you directly or indirectly to your home. You are more "isolated" and cut from anything related from your home whether it be family relatives or friends. So as a result, you will enjoy even more the return. don't get me wrong, you will be so excited or amazed by everything you see during the first days or weeks abroad, that you won't even think about it. This homesickness feeling will appear gradually.

While shovelling down a plate of cheese-soaked pasta in Rome is a delectable experience, there's nothing quite like coming home and getting delivery from your favorite Chinese food place and chowing down while basking in the comfort of your own couch.

Solo travelling makes you appreciate family, friends even more.

As was the case with your home, travelling alone makes you appreciate more those around you in your everyday life that count for you. I think we really tend to stop noticing those who care for us, as we somehow don't see them any longer, it is as if they were part of our life like walls of our home. ( ok I am pushing the envelope a bit but you get my drift). Travelling alone changes your entire environment, ( I am not even talking about travelling in another country) just travelling and going to a place you are not used to, that makes you reconsider your life being on your own, without your family and your friends.You then see how special, how caring they are and how lucky you are.

 Traveling alone is beneficial for your relationship

Let's be clear here, I do think that staying with a person 24 hours a day, 365 days a year non stop is far from being healthy. It might be fun at first when you start a love relationship but that can become really nerve wecking in the long run.  Every relationship is some sort of a balance between time spent together and time spent alone. We all know that that alone time is a key ingredient to a lasting relationship because that time enables you to be a bit selfish and to think only for yourself, even if it is for a little while.

so, solo travel is perfect for that, as you will decide how you want to spend your time, whether that be visiting every museum, trying out all the restaurants in town, or simply spending your mornings or afternoons at the beach reading the books on your reading list.

Let me insist on this again in case you might feel guilty : it is totally fine to be selfish sometimes, it is healthy for any relationship. by putting yourself first sometimes, you are happier and if you are happier, your couple has more chance to stand the test of time….

You'll learn to say yes.

This applies to all aspects of life. But it is more obvious when you are alone without anyone to slow you down, or to criticise you.  Whether you're being invited on a new adventure or to try a disgusting sounding food, travel teaches you that new doesn't equal bad. You learn that by saying yes, by trying new things and visiting new places, by taking the dive and getting in the hot balloon basket, you're living. We don't experience life by saying no and keeping ourselves restricted to the things that we already know.

The same concept is also applicable to everyday life, only in a much less obvious way. By saying yes, you're agreeing to rise to challenges. You're slammed with a massive impending deadline, and you're saying "yes, I can do it". Saying yes causes you to become resilient to life's unexpected obstacles. For me, it takes a hell of a lot to even consider throwing in the towel, and even then, there's no guarantee I won't just pick it back up and try again. Change is always going to happen. Your itinerary might not go perfectly. You might miss a flight or two. Travel forces you to accent that change is natural and it's always waiting around the corner. The more you travel, the more accepting of that fact you become. And sometimes, those unexpected changes lead to great stories.

Your confidence skyrockets.

We get so caught up in how we look, what we do, what we say, and how it all contributes to others' perception of us. For many, this insecurity is a daily plague. When you travel, you learn to let go of that insecurity. If you can learn to conduct yourself and enjoy your time in a totally different culture, suddenly the day-to-day back home doesn't seem so daunting. Experience in another country shows you that when your mind is fixated on positive experiences, your insecurities have no room to weasel their way in. That realization comes home with you. Going on a long trip? You're bound to come back a more confident and poised person.

You lose any semblance of a "comfort zone".

I don't even remember much what it was like to live confined to such a zone. I'm serious. I'm so used to being outside of what would be my "comfort zone" that I don't even notice it anymore. I'm constantly doing things that surprise even myself, and I never second guess it when a crazy idea comes up among friends. I have travel to thank for this. The first time you go visit a new culture (the more different from your own the better), you're hit with a wave of anxiety. What will they think of me? Am I doing this right? How do I ask for something I need? What if… [insert unlikely situation here] happens? You're immediately thrust out of any semblance of comfort and left to fend for yourself. But after a day or two, your anxiety is gone and you find new comfort. Congratulations, your comfort zone has just expanded. Travel teaches you that you can, and once you learn that you can, you start to embrace the fact that you should. If something makes you anxious or scared, it's usually a pretty good sign that you should go for it. Conquering that anxiety, like we do when we travel, gives us immense power.

Your social skills multiply.

I think all of us are a little scared of people. We're mostly afraid to be rejected. This isn't just in a romantic/sexual sense, either. We're afraid that people won't want to talk to us, that they won't like us for whatever reason. This subconscious fear holds us back from truly being social. However, when you're in a new country and sitting at the bar alone, you learn to get used to people coming up to talk to you. Plus, asking for help is inevitable. Because there is no one else who will do it for you.

Do this enough and suddenly people don't seem so scary anymore. Most people are happy to be approached if you're a decent person. And if they do reject you? There are billions more people out there. You can live without the one.

Travel helps you become more creative.

When you travel, you're not just exposed to new art, fashion, history, knowledge, architecture, music, media, etc., you're exposed to a new culture.

If the first seven things don't do it for you, learning to understand and accept a new culture certainly will. Psychologists have found that spending a good amount of time around a different culture of people has proven effects on our brain and thus expands our capacity for creativity. They speculate that this happens because we're challenging our definitions, our current understanding of what we know to be true. Learning about a new culture and taking it in is a lot like hearing a new genre of music for the first time, and then getting into it. It opens your mind up to what defines "music" and adjusts the definition. Travel does the same thing. By seeing how different cultures interact with each other and the world, we have to redefine what it means to be a person. That adjustment itself is an embrace and expansion of creativity.

You'll become a more well-rounded person.

As mentioned previously, travel alone helps you embrace change. When you do this, when you keep yourself prepared and malleable should change come, you're less susceptible to stress. Stress wreaks havoc on the human body, both physically and mentally. It is even more daunting when you are alone and cannot count on others to help you. It drives our moods crazy and leaks into many other physiological processes that disrupt our well-being and thus our lives. But beyond that, travel shows you that little things are truly little things.

When you learn to expand your perspective, those little things really don't affect you as much. There's so much more to life than what we face on a daily basis, and knowing that there's an entire world out there opens you up to that. For example, if the hotel loses your reservation and you have to walk to another one 35 minutes away in the rain because the one you reserved is fully booked, you learn that it's okay and you don't get upset over it. Personally, when these things happen, I think to myself, "this isn't forever, this will end soon and I'll be in a nice warm bed". It even applies when I'm just having a rough time in life in general, and it's a struggle to get out of bed. This little mantra type thinking that I've developed has gotten me through some tough moments, and it's because of travel. Not being affected by these hiccups and low moments in the long term has rendered me a much more balanced, stable person. Travel will do the same for you.
Travelling and more specifically travelling alone has changed my life for the better. It's affected my every day life. It has taught me to live large, and to appreciate living small. I've always wondered if, when I'm in my 80s, I'd look back on my life and regret not doing something, or not doing enough. I've been told by so many people that they wish they could travel, that they envy me for being able to. This makes me sad, because if I've learned anything from travel – it's that travel is fundamental to our development as happy, well-balanced individuals. I look back on my life thus far, and I don't have regrets. I don't have any missed opportunities, or times where I regret saying "no". I'm confident that when I'm 80 and looking back, I'll be happy with the life I've lived. If you're hungry for the same thing, there's no excuse to not be planning your next trip now.